By Marcin Wojtyczka
4 minutes read
In spring 2022 we sailed from Tenerife to Mallorca. During the ocean passages, the crew experienced high winds and long Atlantic swell. The crew was navigating using astro navigation on the long Atlantic passage from Madeira to Gibraltar.
Crew
Leg 1:
Darek - Poland
Brendan - Ireland
Brian - Ireland
Malek - France
Michael & Nina - Austria
Leg 2:
Darek - Poland
Krzysztof - Poland
Clement - China
Kaleb - USA
Skipper
Leg 1: Tenerife (Santa Cruz) - Madeira - Ceuta - La Linea (Gibraltar)
Leg 2: La Linea (Gibraltar) - Almeria - Ibiza - Palma de Mallorca
Sun Odyssey 419 "Turrun Turrun"
General info:
Year: 2017
Type: sailing
CE design category: A – Ocean
Hull: monohull
Length: 12.80 m (42ft)
Berths: 8 (6+2)
Cabins: 3
WC / Shower: 2
Beam: 3.90 m
Draught: 2.20 m
Engine: 60 hp
Fuel capacity: 200 l (Diesel)
Water capacity: 330 l
Sails: main (full batten), genua (furling), storm jib
Passage from Tenerife to Madeira
Weather forecasts were not in our favour with strong Azores high but with not a bad direction so we could make the 260 miles in one tack.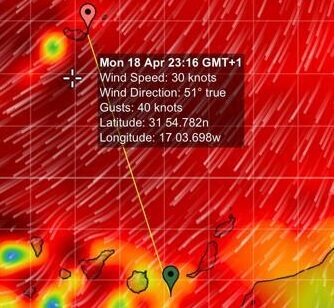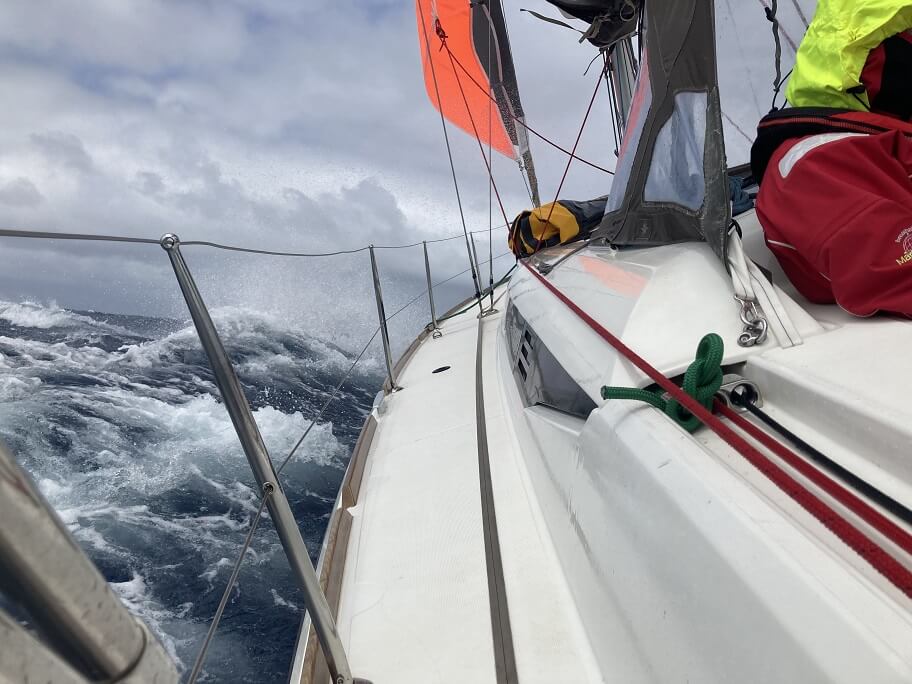 ... and the stormy conditions
As forecasted, we experienced winds of up to 34 knots and 3-meter waves. The passage was tough but the brave crew made it ahead of time. We had 7-8 Beaufort during most of the passage. Running on 3rd reef in the main and storm jib made it more comfortable.
With a strong wind and big swell to Gibraltar Strait
Due to a deep low coming all the way from Greenland towards Spain, the wind and wave direction turned in our favour and we could sail on broad reach all the way to Gibraltar Strait (about 600 miles). We were doing on average 6 knots and could reach Ceuta in less than 5 days.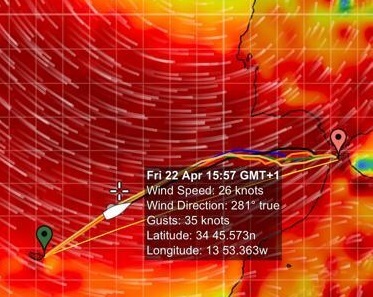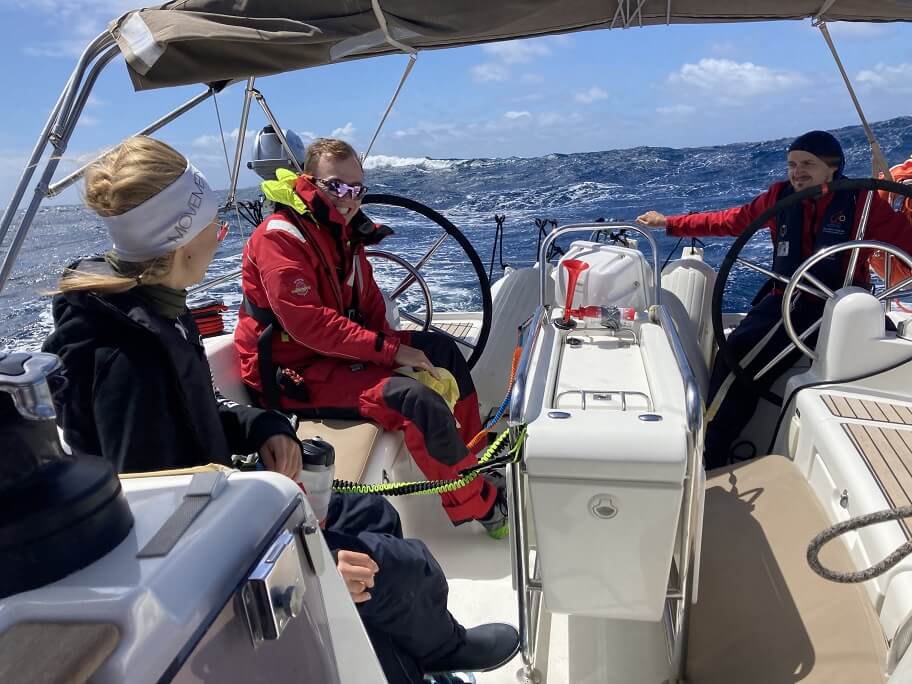 ... and enjoying the ocean
Even though the winds were pretty strong (up to 36 knots) and the waves pretty high (significant wave height of 5.4m, period 12sek) the passage was quite comfortable due to the good direction of the wind. We were also happy to arrive in the Strait of Gibraltar at the right time and receive additional 2 knots of speed for free from the tidal stream.
Charging batteries in Ceuta
After the ocean passage, we spent a day in Ceuta on the North Coast of Africa in the Strait of Gibraltar. The city has a long history that has been peppered with conquests and takeovers, making it an interesting location to visit.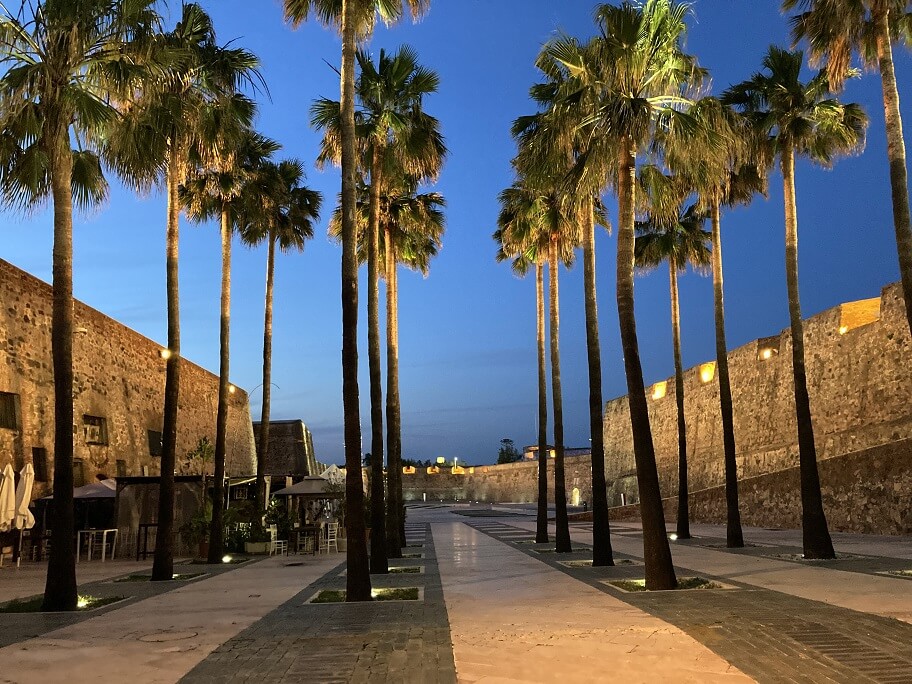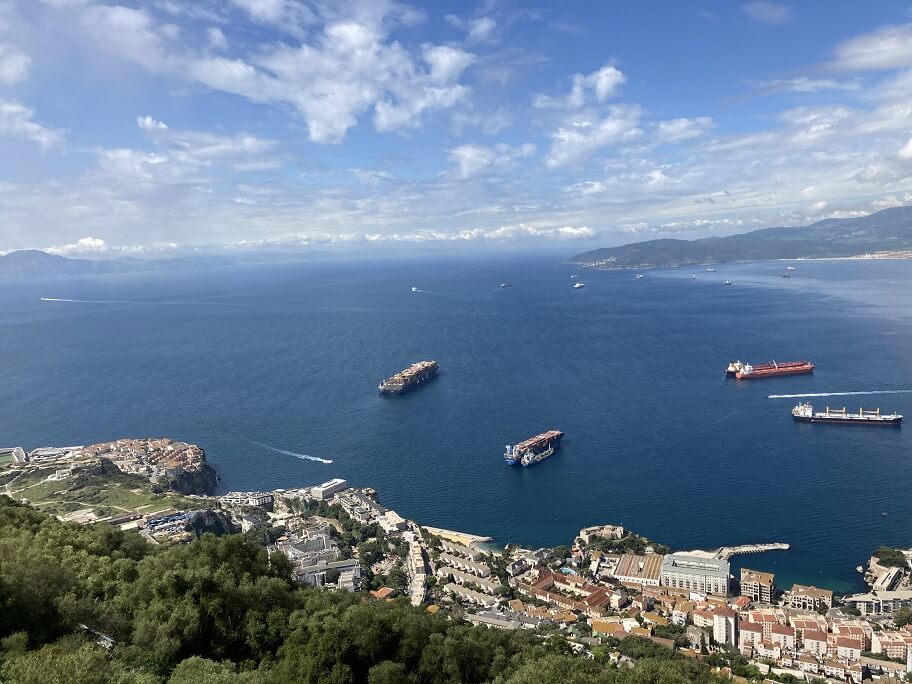 Short hop to La Linea across Gibraltar Strait
Having rested a little bit, we left for La Linea on the other side of the Gibraltar Strait. We had a gentle breeze and could make the passage on sails alone navigating around ferries and all kinds of commercial ships.
Negotiating traffic to Almeria
Gibraltar and surrounding waters are very busy so we had to solve many puzzles. We had to negotiate the traffic almost the whole night so everyone had ample opportunity to refresh or learn the COLREG rules. It was also a good occasion to practice tides to work out the best time to leave.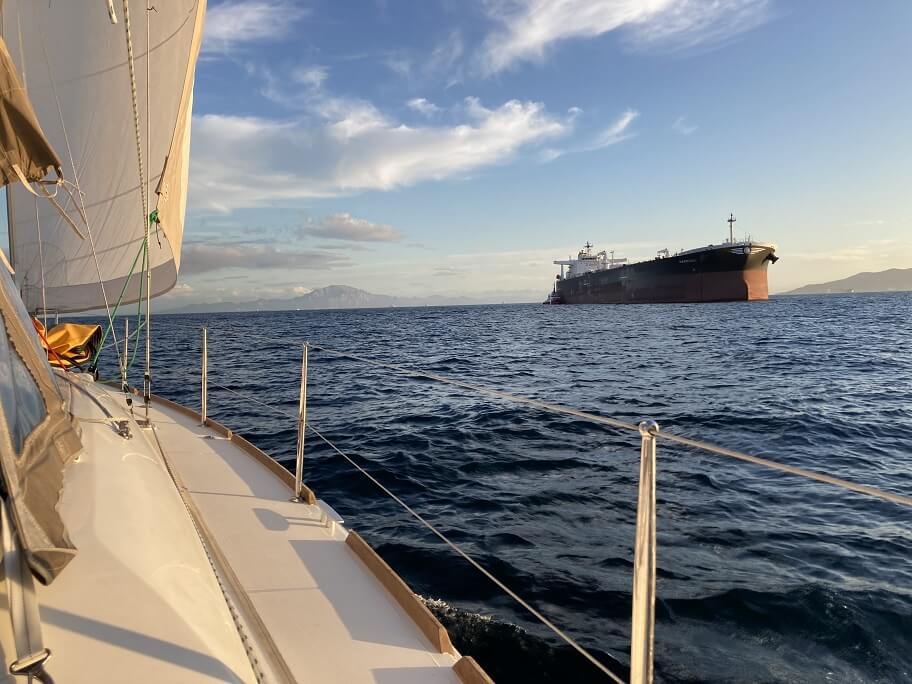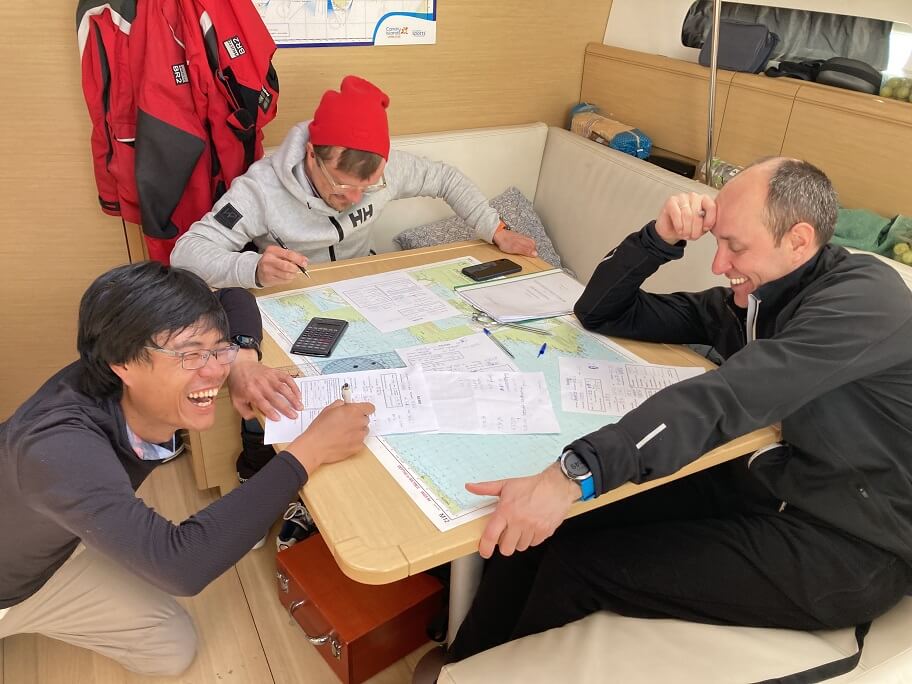 ... and trainings on board
The weather in the Med was much more relaxed than on the Ocean and we spent some time on trainings, e.g. navigation, passage and pilotage planning, weather forecasting and routing, safety, knots etc.
After rounding Cabo de Gata cape near Almeria, we stopped for a swim in the beautiful Playa de los Genoveses. The whole area is very mountainous and quite spectacular. From the beach, we sailed towards the open sea and kept around 50 miles from the shore as better winds were expected offshore.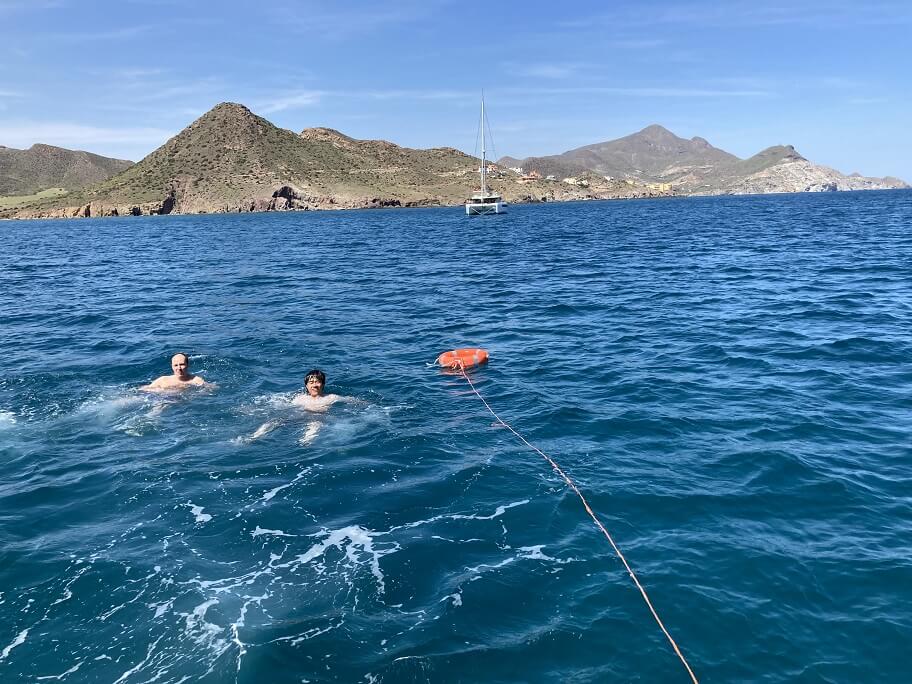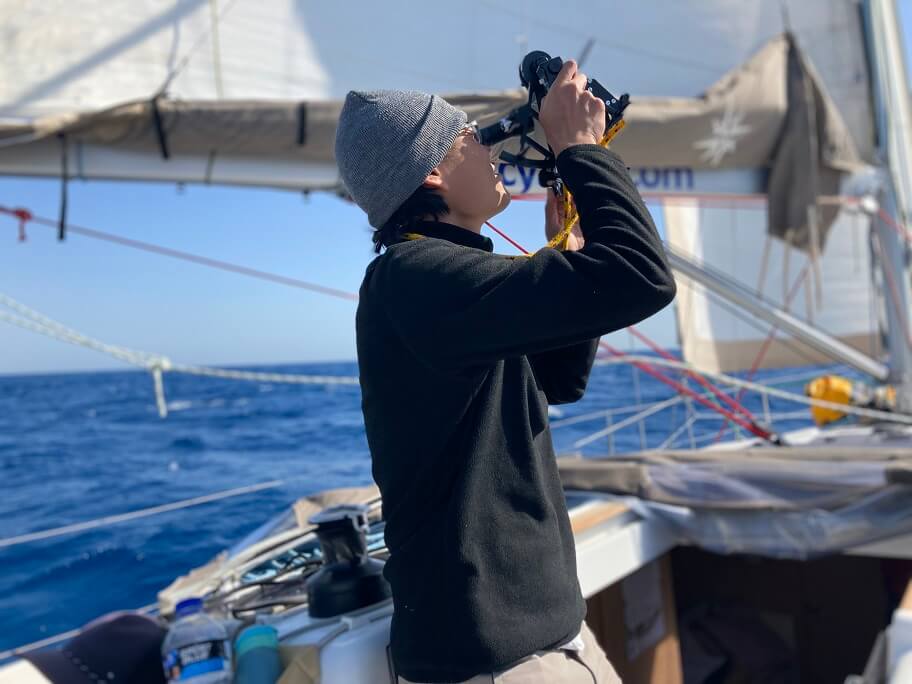 During this 250 miles passage to Ibiza, we were navigating with traditional methods of position fixing using dead reckoning and celestial navigation, as well as all kinds of position fixing in the sight of lands.
Ibiza has one of the best anchorages in the Med so it would be a miss if we did not stop there. We choose the Ensanada de Canal Bay on the south coast of Ibiza which is quite a popular beach party destination. We had a lot of fun in this place, chilling on the boat, visiting some of the beach bars, and walking along this splendid coast.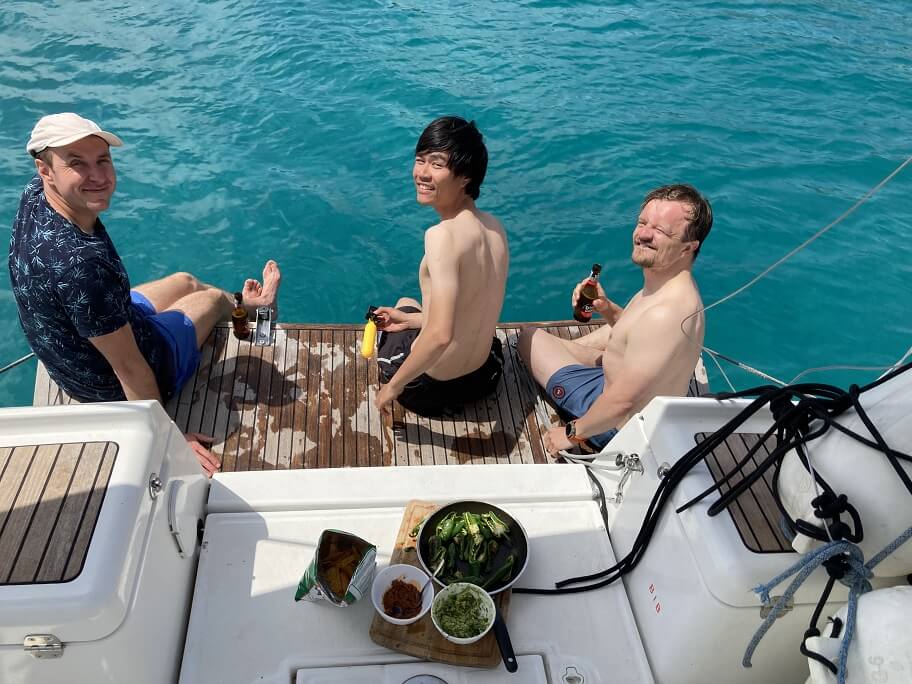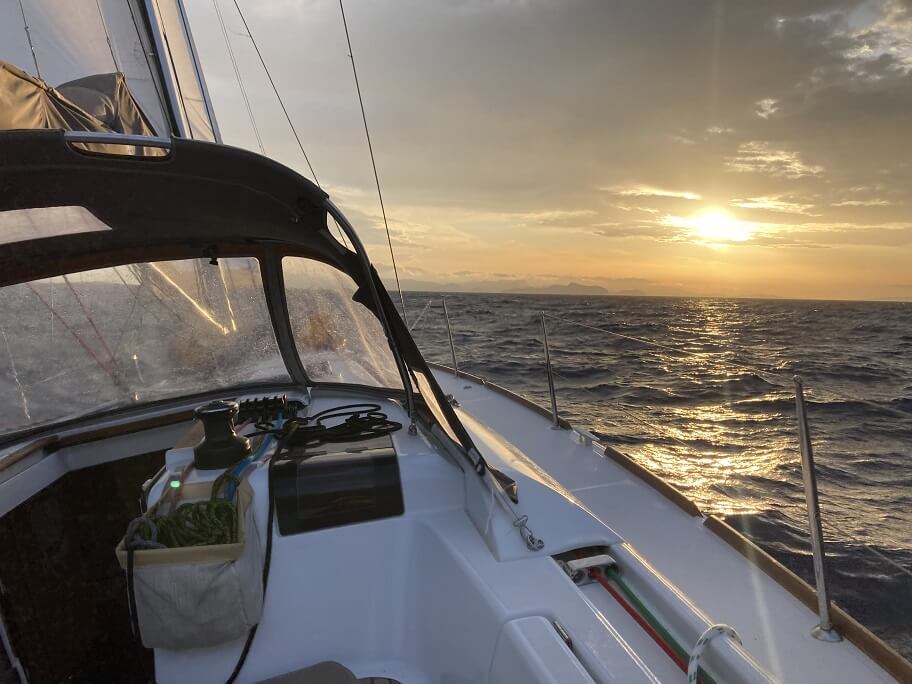 The last 80 miles of the trip from Ibiza to Palma de Mallorca was accompanied by occasional heavy gusts and lightning which might be surprising at this time of the year. Fortunately, very little rain was experienced and we could marvel at the beautiful Mallorca coast.
The whole trip lasted only 18 days but it felt like half a year. We definitely had an appetite for more. So now, it's time to plan the next adventure.