By Marcin Wojtyczka
4 minutes read
List of items to include in your Grab Bag.
A grab bag is an easily accessible and transportable bag to aid survival in a liferaft. A grab bag should be prepared on every boat and stowed in an easily accessible location. Ideally, it should be waterproof and able to float once the contents are in it. It is recommended to store it ready for immediate use within reach of the main companionway hatch. Make sure that every crew member knows where it is.
Do not be tempted to borrow items from the grab bag. It may be worthwhile having the permanent contents in one bag and a second one for the items which will be taken in and out, or which may need to be collected from around the boat in an emergency such as the EPIRB.
We all believe that the worst will not happen to us but, if it does, and you end up floating in a liferaft, you will be thankful that you have prepared a grab bag.
Grab Bag content
The content of the grab bag will depend on your voyage. If you are planning a long cruise or an ocean crossing, where rescue could be days or more away, it is essential that you prepare your grab bag carefully.
It is important to prepare the grab bag before the trip because if you have to abandon to the liferaft you will not have time to rummage around for what you need.
Below is a long list of suggestions for the desirable contents of a grab bag for an ocean-going yacht. Depending on the number of items you have on board you may have to leave some items out or shift some items from the first to the second grab bag and vice versa.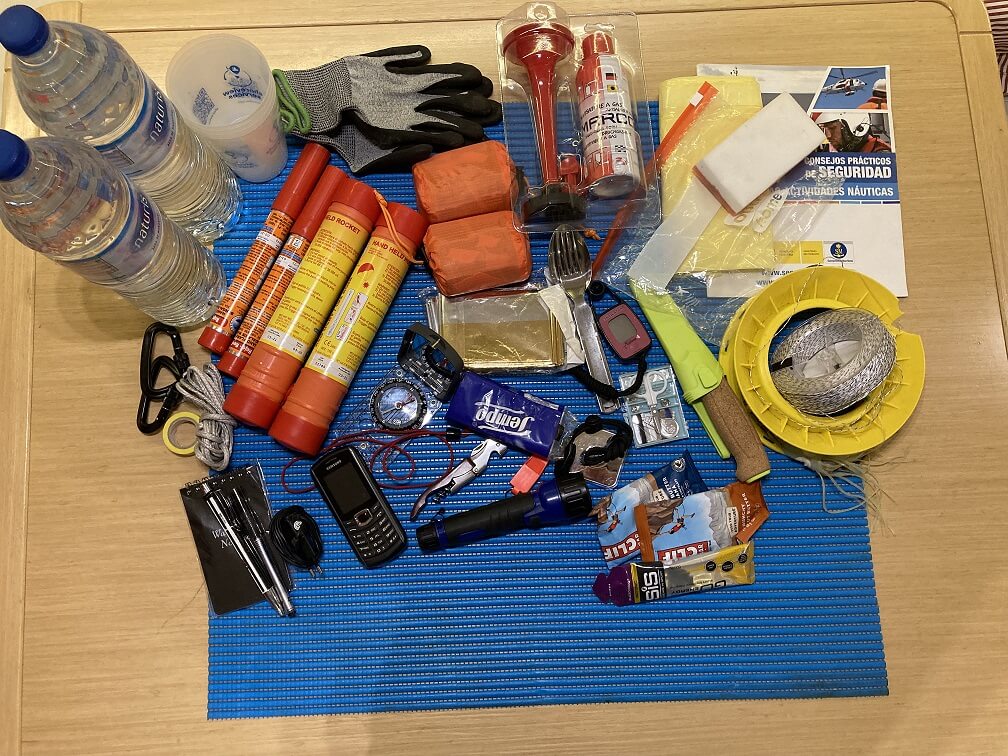 First Grab Bag (ready to use)
Waterproof torch(es) with spare batteries
Watertight strobe light with spare batteries
Scissors with a sharp knife and tin opener
Sharp knife
Seasickness tablets (min 6 per person), antibiotics, painkillers etc.
2 x red parachute and 3 x red handheld flares
Gloves for use with flares
Nylon string and lengths of line or string
Needles and twine
Duct tape
Ziploc plastic bags
Rubbish bags
Bottled water (e.g. 4x0.5L) – leave some air in the containers to ensure that they can float
Signaling mirror, whistle and fog horn
Handheld compass
Thermal / survival blankets
Distress V sheet
Bailer & Sponge (hint: you can make a bailer from a bottle)
Liferaft repair kit
Survival manual / table of life-saving signals
Waterproof notebook & pencil
Matches & lighter
Liferaft fishing survival kit (fishing line, hooks, lures)
Baby wipes & toilet paper in a waterproof bag
Supply of emergency food (tinned food and high-energy food)
Graduated drinking vessels
Chemical heat packs
Sunscreen, lip balm, sunhat, sunglasses
Cutting board
Pack of cards (to keep up morale)
Swimming goggles to see in bad storms
Ship's papers and passports (or laminated copies)
Credit card and some money
Extra batteries / Powerbank for charging communication equipment
This inventory of kits might not fit into one container. In that case, it may be a good idea to split it up. You may also keep food and water separate, so you can renew and review them regularly.
Second Grab bag (items collected from around the boat)
EPIRB & PLB
Watertight handheld VHF with spare batteries
Watertight handheld GPS with spare batteries
Satellite phone with waterproof cover and spare batteries
SART (search and rescue transponder beacon), if you have one
First aid kit stored on board (medical supplies), prescription medications
Additional water and food
Additional flares stored on the boat
Drysuits
Warm clothes (ideally wind and rainproof) and blankets
Binoculars
Large plastic container / Basket
Charts and navigation tools
Ship's logbook
Cockpit cushions (anything that can isolate the bottom of the liferaft)
Desalination kit (handheld watermaker)
Solar charging kit
Sea anchor with a swivel and more than 30 m of line
Crew member's personal grab bag
In addition to the boat's grab bag, every crew member should have the following ready to grab:
Wallet with passport, vivas, bank cards, money, ID, driving license and medical insurance
Mobile phone and charger
House and car keys
Personal medications
You can also find the recommended grab bag content from the RORC Special Regulations here.
Checklists to download
Grab Bag checklist (offshore) (PDF)
Grab Bag checklist (coastal) (PDF)
Fair Winds and Following Seas!