By Marcin Wojtyczka
11 minutes read
You can find here the consumables provisioning checklist and practical tips for longer passages.
Provisioning for a long sailing trip is fundamental and it is all commonsense. The shopping for boating trips differs a lot depending on who will be on board with you. If it's just going to be you and another person, things are more straightforward, since you know what you like and what your partner likes and generally how much food you both will go through during your trip. However, if you have more people on board, things get trickier and it can be helpful to include participants in this planning phase. As a general rule, the greater the number of crew on board, the more organised you need to be with provisioning and stowage, both to ensure you have enough food and water on board and to make sure that key ingredients do not get used up too early.
Before you sail you will need a mission to the supermarket to stock up for your trip. You should get an idea of how much food and water you need. Take some time to sketch out rough menu ideas. Try to go for meals you can cook quickly and easily. It is better to eat fresh food so if you plan to stop at places where you can buy it, only stock the amount that you need till the next stop to avoid food waste. For long-distance sailing, make sure that you carry some extra food and water (30% or so) in case the passage takes more time than you estimated.
Menu
Estimating how much you should take of everything is one of the hardest parts. Probably the most common method is for someone on the crew to make a general shopping list to stock the boat, and then it's left to the cook of the day (or watch) to make a meal by using what's available. The problem with this is that improvising from a random selection of what hasn't yet been eaten or gone off is rather an advanced skill for someone that is not good at cooking. Those people start to worry as their turn approaches. A better and usually less wasteful approach is to plan menus for the entire passage and organise provisions strictly into daily food bags, then stick to them during the passage. That not only allows you to produce a shopping list of exactly what you need, but when you get the food on board, you will be able to box it up or stow it in the order you will need it.
You can prepare a menu for 7 days or so and just double/triple it for longer trips. You will have to freeze more ingredients and/or replace some of them with canned food (e.g. tomatoes).
Breakfast
For the mornings, get bread and croissants. Eggs are always handy as they do not necessarily need to be kept in the refrigerator and can double up as lunch material, as can cured ham and cheese. It is also useful to have some cereals, jam, fresh fruit and yoghurt.
Lunch
Get in some cured ham or cheese, perhaps olives to put out as a starter with some crusty bread, olive oil and balsamic. Fruit, vegetable salad or crisps with avocado could be also a good alternative.
Dinner
This should ideally be a hot meal. Perhaps some pan-fried fish with stir-fried vegetables; chicken and pepper with sour cream and rice; smoked salmon with pasta and sauce; or spaghetti with tomato sauce and cheese.
Provisioning checklist
The amount and number of products to take will depend on the number of people on board, lengths of the trip, crew preferences (e.g. vegetarians), allergies amongst the crew, refrigerator and freezer capacity.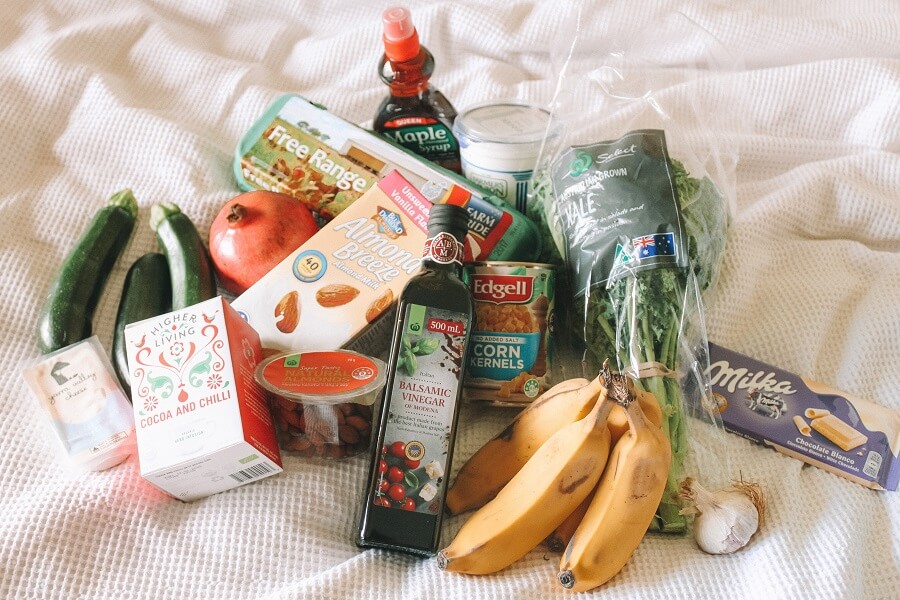 Food
Noodles
Spaghetti
Rice
Gnocchi
Pesto
Tomato sauce for pasta
Yellow cheese
Grated Parmesan cheese
Mozzarella
Feta cheese
Cured ham (e.g. prosciutto, choriso)
Sausages
Spreadable cheese wedge
Cream cheese spread (e.g. Philadelphia)
Meat, e.g. minced beef meat (150g / person / meal)
Fish, e.g. salmon filets (1kg, 150g / person / meal)
Vegetables (pepper, cucumbers, tomatoes, lettuce, onions, avocado, etc.)
Fruits (apples, oranges, bananas, grapes etc.)
Eggs
Milk
Bread (a loaf a day, half pre-packed to reheat in oven)
Yeast and flour for making bread
Pre-packed croissants to reheat in the oven
Crisp bread
Butter
Jam
Olive oil
Sunflower oil for frying
Sweets (dark chocolate, granola bars, cookies, high energy bars etc.)
Crisps / potato chips (Pringles stow well)
Cereals
Muesli / Oatmeal
Lemons
Greek yoghurts
Olives
Sugar (cubes), salt, honey, cayenne pepper, spices & condiments (garlic, chopped parsley, mix of herbs - mild garam masala, ceylon cinnamon, curry etc.)
Ketchup, mayonnaise
Coffee and tea
Ginger root (seasickness prevention)
Vegetable cans: corn, ananas in pieces, any other favourite
Pancake mix
Canned tuna fish
Canned meat, e.g. stew
Pre-packaged food (e.g. black beans, beef stroganoff)
Instant soups (for night shifts)
Dried fruits and nuts
Your favourite treats – subject to personal preferences (hot chocolate mix, pudding cups, jelly etc.)
Remember to eat easily perishable products first, e.g. vegetables, bread etc.
Water & drinks
Bottled water (still and sparkling). In total 3L / day / person (account for more if you sail in the tropics: 3.5L). You can keep all drinking water in bottles or jerry cans to have an independent water source in case of tank water issues (e.g. leak, contamination), especially if you do not carry a watermaker. Sparkling water is more refreshing and safer as it hinders bacteria growth, which makes a significant difference especially when it comes to long-distance sailing
Coca-Cola in small cans – works also as a cure for stomach issues
Drinks (beer, wine etc.) - buy from shared crew cash only if everyone is fine with that, otherwise buy individually. Note that drinking alcohol at sea is not permitted so take it only for stops.
Expendables & Cleaning supplies
Toilet paper (~0.5 roll / person / 2 days)
Paper towel (1 roll / day)
Kitchen towels (2x)
Garbage bags (large and small)
Long neck lighter (2x) and matches
Biodegradable washing-up liquid
Sponges for washing dishes
Sponge (2x big one for car washing)
Coffee filters
Disinfectant gel
Wet cleaning wipes and handkerchiefs
Duct tape (3M)
Electrical duct tapes
Bicarbonate of soda
Vinegar (cooking, cleaning and treating jellyfish stings)
Liquid soap with dispenser (1 for each head)
Window cleaning spray
Ziplock bags (to keep things sealed up, protected against the open sea air, and for freezing)
Aloe gel for sunburn
Ceramic frying pan and a wooden spoon (if you are on a chartered boat, these are always in a catastrophic condition - no one should eat Teflon)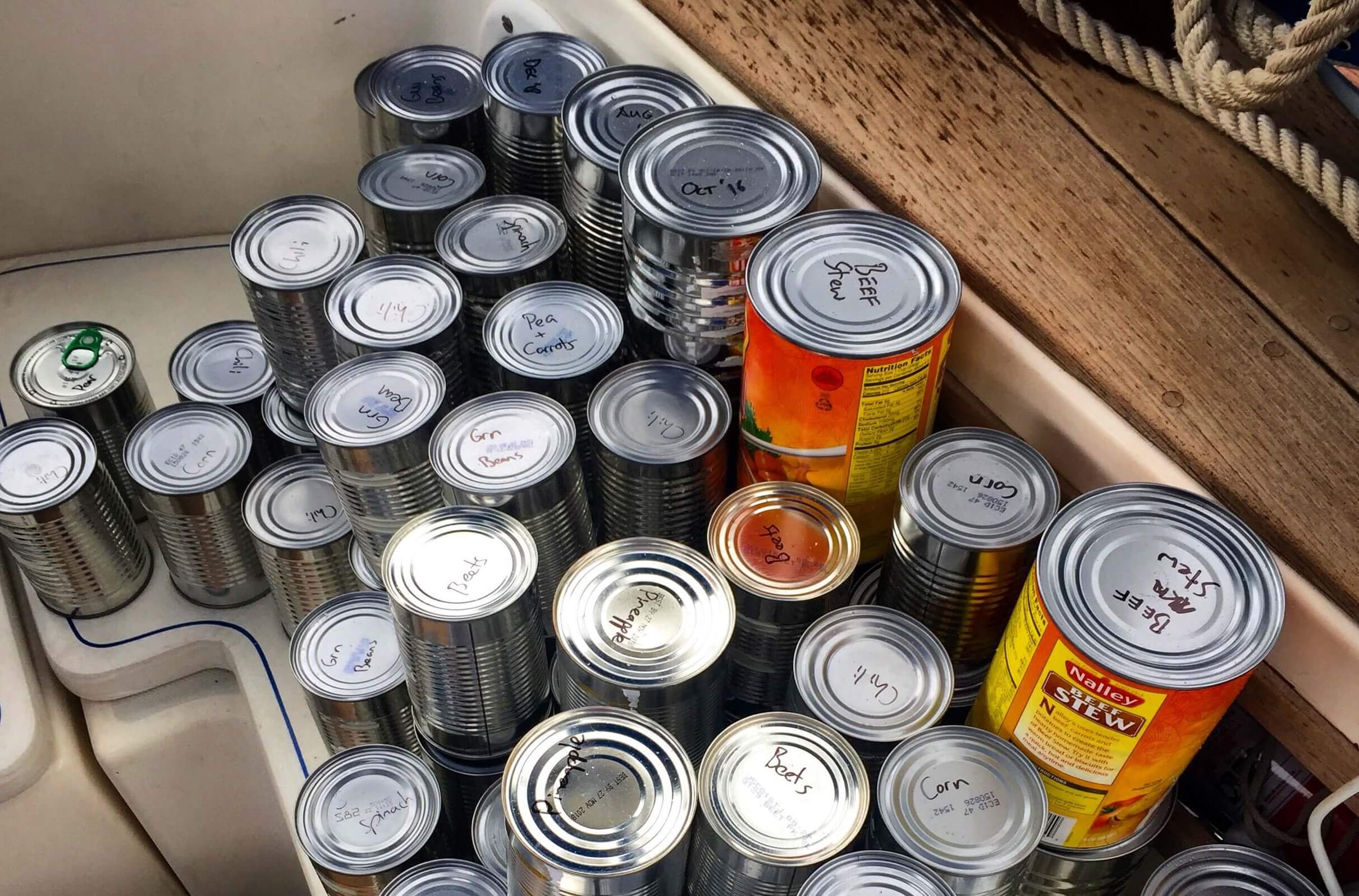 Tips
Label water bottles with each crew member's name to monitor how much they are drinking. Even better if everyone has their own graduated drinking vessel. Dehydration can lead to tiredness, muscle cramps, insomnia and decreased physical and mental performance, particularly around decision-making, so drinking enough should be a top priority.
Keep a bottle of water on deck and take regular sips during watch to keep you watered and awake.
Invest in a watermaker for ocean crossings to top up water tanks and/or empty bottles/jerry cans every day. These devices are extremely efficient nowadays and can make your life on board much more comfortable.
Monitor and note the consumption of all consumables on a regular basis. Keep a counter on how much bottled water you used. Write down every single bottle that was picked from the storage. This can go out of hand pretty fast, especially with a bigger crew size. You do not want to discover that you are out of drinking water halfway through especially if you do not have a watermaker.
Use seawater for washing dishes, taking showers (swim or bucket over the head on the aft deck) or boiling carbs and only rinse with fresh water at the end. For some dishes, you can also opt to use paper towels instead of plates to avoid washing. Having at least one seawater tap on board makes things easier.
Some prefer to keep the electric water pressure pump off at all times and use a manual pump to avoid situations when a leak is developed and all water is pumped out to the bilge. Another hint is to turn the pump pressure down, so all taps run slower.
Bread does not fare well in the humid environment of boating so buy fresh bread whenever you can or bake your own bread (you can buy ready-made yeast bread mix). Things like English muffins and bagels will likely survive longer, but they are also not as tasty.
Pack food in glass containers or ziplock bags to keep things sealed up and protected against the open air.
The more fresh food you can vacuum-pack and freeze, the better. Research make-ahead meals that might be nice to bring if your yacht has a freezer.
Do not pack food you do not like: ideally try it before you buy.
Many grocery stores offer delivery services, allowing you to arrange a drop-off of all your groceries right at the marina.
Eating three or four smaller meals a day will help level out your calorie intake over time and also guard against that dozy feeling after eating a big meal.
Pre-cook meals for the first few days at sea. It takes three days on average for crews to get their sea legs and fully settle down.
To save space in lockers, use bilges to store durable stuff like water bottles and canned drinks. Store other food items in easily accessible and dry lockers. Any tins to be kept in the bilge should have the contents marked in indelible pen and their labels removed to prevent the possibility of soggy labels clogging bilge pump strainers. Regardless, the bilge or any locker used for storing food should be dry. Even cans will rust quickly in the sea air when dampened (only really a factor for very long trips).
Keep as much packaging off your boat as possible. Keep cardboard boxes on the dock and empty them there to ensure no cockroaches or other insect eggs get on your boat. Cockroaches and other insects love to deposit their eggs in cardboard corners, corrugations or Tetra Paks. Remove things like cereal and crackers from their cardboard boxes as well and seal them in zip-loc bags instead.
Store eggs in plastic trays instead of the usual cardboard boxes to prevent bugs. Turn eggs twice a week to prevent the yolks from settling and making them turn bad.
Store vegetables and fruits in netting, so they are well ventilated.
Have a plan of what you are going to eat / drink if a freezer or refrigerator breaks down, gas runs out or the water tank is leaked or contaminated. For example, vacuum packing could potentially keep the food fresh even if the freezer fails. Keeping drinking water in bottles provides an independent water source.
Treat water and water tanks with chlorine if you are uncertain of the water quality (e.g. in the tropics). The easiest is to use water purification tablets. But like many chemicals, chlorine attacks aluminium so don't use it if you have aluminium tanks.
When buying cans, tins and jars make sure the lid is not swollen!
Know crew preferences (e.g. vegetarians) and allergies to avoid problematic food.
Weight is your first priority in deciding what goes where. Heavy things should be stowed low and near the centre of the boat to preserve the stability of the boat.
Prepare a stowage map of where things are.
Write down crew preferences in terms of drinks (coffee, tea, with/without sugar or milk, etc.).
Label each mug with a different colour (tape) to avoid frequent washing.
Wash all fruits and vegetables so as not to bring any bugs on board.
Store bananas separate from other fruits and vegetables. One ripe banana will cause the other bananas and nearby fruits to ripen. You can delay the domino effect to some extent by separating the bananas off into smaller "hands" and storing them in different places, away from any other fruit and vegetables. Likewise, if your bananas or other fruit and vegetables are very green and don't show any signs of ripening you can help them along by placing a ripe banana next to them.
In marinas with an abundance of cockroaches, sprinkle your mooring lines with insecticidal powder.
In infested marinas, disinfect the soles of your shoes before coming aboard to avoid any sirk of bringing in cockroach eggs. A small basin kept handy with water and some disinfectant added should do the trick. Likewise, having shoes to be used only aboard is another good idea.
Example provisioning checklist for 9 days and 7 people on board (PDF)
Further reading on how to provision for three or more weeks at sea
Fair Winds and Following Seas!