By Marcin Wojtyczka
9 minutes read
Read to choose the best long-range communication options for ocean voyaging and learn how to use it.
Once you start venturing out of sight of land for more than 3 days you are likely to benefit from a long-range communication system. They can be used afield to contact family, download weather forecasts, receive / send emails or make safety phone calls if needed.
There are two options available for long-range communication: Satellite or High Frequency radio (HF). The only system registered with the Global Maritime Distress and Safety System (GMDSS) that provides voice communication services is Inmarsat satellite system. Other companies (such as Iridium) produce shipboard equipment but are not part of GMDSS. Inmarsat is very popular within commercial shipping industry. But Iridium is usually a better option for recreational sailors. HF radios are in decline due to the high cost and complexity of use.
Comparison
HF Radio (Marine SSB or HAM)
Advantages
Completely free to use
A DSC enabled HF set will mean you can broadcast a distress alert globally
Disadvantages
The radios are expensive
Complex to install
Considerable training required to use it effectively
Many countries are reducing their HF services
HAM radio requires license
Transmission depends on radio propagation - may be times when cannot transmit at all
Inmarsat satellite connection
Advantages
GMDSS and IMO approved satellite network used by commercial shipping
Easy to install
Almost global coverage apart from poles (the network is comprised of three geostationary satellites located along the equator)
Sat C has the ability to send a distress message to all vessels in your ocean area at the touch of a button
Sat C safety and weather information is broadcast free of charge
Less variability of the signal strength and dropped calls than Iridium
No subject to propagation problems
Disadvantages
Sat C is a very old system with limited capabilities for anything beyond basic text messages
Fleet broadband minimum data subscription is expensive (starting at around $120 per month for 10mb)
Data usage is more expensive than Iridium
Less satellites are available to get a clear line of sight (coverage is provided by just 3 satellites)
Inmarsat's satellites orbit the Equator on geostationary orbit so the further you travel from the Equator, the more difficult it will become to achieve line of sight to the satellites
Iridium satellite connection (recommended)
Advantages
Cheaper subscriptions (plans) than Inmarsat
Global coverage including poles (network made up of a constellation of 66 satellites)
Easy to install and use, especially with Iridium Go
Flexible plans
Programmable SOS button to notify specified contacts and connect to GEOS Emergency Response Service for free
Better availability of satellites than Inmarsat (66 satellites in total)
Iridium's satellites orbit the Poles so coverage is always assured, wherever you are in the world, even at extreme latitudes
No subject to propagation problems
Full range of communication capabilities
Disadvantages
Not recognised within the GMDSS system
No means for automatically receiving nav and weather warnings
No automatic distress call function for all vessels in your ocean area
More variability of the signal strength than Inmarsat
Iridium Go Satellite hotspot
The two main equipment options available for Iridium network is Iridium satellite phone and Iridium GO!.
Iridium GO is essentially a modem that enables you to use your smartphone or tablet to make voice calls, share photos, access emails, SMS two-way, use GPS tracking and send out SOS alerts. You can connect to the device via Wi-Fi from your smarthone or tablet. It needs a paired mobile phone to make voice calls and only certain apps work with it.
The Iridium phone is generally more reliable than Iridium Go since you don't need additional devices like smartphone or tablet but it's more complex to use and more expensive. Therefore, Iridium Go is probably a better option for you. It is more economical version of the Iridium's handsets but without the numeric keypad.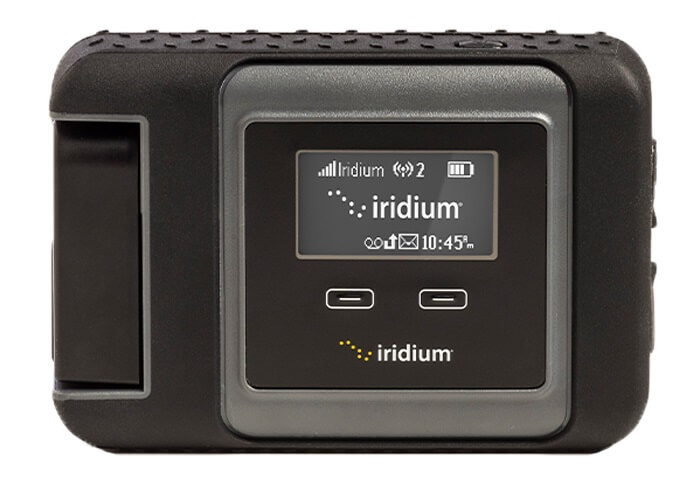 What you need to purchase
Iridium GO device (one time cost of $900)
Airtime for a prepaid SIM or a subscription (plan) to provide voice and data minutes (cost starts from $50 per month)
SIM card (cost $10)
Weather forecasting app that can work with satellite connection (e.g. predictwind standard, cost $249 per year)
(Optional) Iridium Go external antenna (one time cost of $450). The reception is much better with the external antenna but you can go by without (just make sure to bring the device outside the cabin so that the sky view is unobstructed)
How the subscription (plan) works
There are several subscription providers available. I've been very happy with the with the Predictwind and can recommend it. Predictwind is a one-stop shop for everything Iridium Go and weather forecasting.
Choosing the suitable subscription and activating the SIM card are done once you have the SIM card in hand. In the first month after activation billing is pro-rated, e.g. if activating on the 15th of the month you will only be charged 50% of the monthly fee. For subsequent months the billing period begins from the 1st of the month to the final day of the calendar month.
Predictwind offer 3 data/airtime plans for the Iridium GO:
Basic - recommended as a holding or set up plan only (5 internet data minutes only, the rest pay per use)
Plus - 150 minutes of voice calling and internet data, and unlimited SMS
Unlimited - 150 minutes of voice calling, unlimited internet data and unlimited SMS
Data speeds is limited to 2.4kBps hence downloading a weather forecast typically takes around 15 minutes. Therefore, the Unlimited plan is the best option most of the time. The plus plan is only suitable for short trips (up to 6 days in a month) as you will probably want to download the weather forecast twice a day (in the morning and evening). Sending and receiving emails would consume additional minutes.
You can change your plan anytime during the month, the change will take effect immediately. You will be charged any overages that are due on the existing plan at the end of the month. You can only have one plan change per month. Plans can be cancelled at any stage during the month, the cancellation will happen immediately. But you cannot cancel the plan in the same month that you activate.
If your trips are many months apart, the most economical strategy is to cancel your plan in between the trips and activate again when you need it. This requires buying and activating a new SIM card but they are very cheap. If your trips are just a few months apart a better option might be to change the plan to Basic so that you hold your SIM card while incurring less charges when you don't need your Iridium Go.
What you need to install
The Iridium Go device act as internet router / modem. You will need to install some apps on your smartphone / tables / laptop:
Iridium Go App for making phone calls and sending / receiving SMS
Iridium Mail App for sending / receiving email
PredictWind Offshore App for downloading weather forecasts. You will need to buy Standard license to be able to use it with satellite connection
Setting up and Testing
Once you buy the Iridium Go device & SIM card, and install the required apps, follow the below steps:
Active SIM card and choose the subscription (here for predictwind). You will need the SIM card number printed on the card, the IMEI number printed on the box and also found under the battery, your credit card and billing address.
Insert the SIM card in the Iridium Go device.
Lift the antenna of the Iridium Go device to start it. Once the device boots, you can switch it to the Data (Internet) Call mode, by clicking Internet Call button. You need this if you want to download weather forecasts and send / receive emails. The data minutes are counting from the moment the internet call is enabled.
Make sure that you have 5 bars of signal strength prior to use. If you don't use external antenna you will have to bring your device outside the cabin. Without full signal strength, the data rate will drop dramatically, i.e. 5 bars => full speed, 4 bars => 50% speed, 3 bars => 10% speed, 2 bars and below => usually the connection drops.
Connect to the Iridium Go Wi-Fi in your smartphone. The Iridium Go act as a router and it should be available as a Wi-Fi connection when it boots.
Login to the Iridium Go App (use the default 'guest' username and password).
For testing, make a phone call to someone in your contact list. The receiving end will incur local phone call charges (no additional satellite charges apply).
Setup SOS button. Iridium GO! offers a programmable SOS button that can be configured to notify specified contacts in the case of an emergency. Once configured, an SOS can be initiated either from the Iridium GO! device or the application. To support the SOS feature, Iridium has contracted with GEOS an emergency response coordination service at no additional charge.
Program additional numbers in your phone: your contact ashore, nearest Maritime Rescue Co-ordination Centres, radio-medical services, e.g. free International Radio Medical Center (CIRM) which has doctors available 24/7.
For testing, send SMS from your phone to someone in your contact list.
For testing, send SMS to Iridium Go via the Iridium Messaging. Just type the Iridium Go SIM card number & message and click send. While it is possible to send SMS and make phone calls to the Iridium GO directly, it is expensive and usually have to be enabled in the mobile provider. A more economical option, for people to contact you is to use the Iridium Messaging or email.
For testing, send an email from the Iridium Mail App to your private email address.
For testing, send an email from your private email address to your Iridium email address.
Additional Tutorials
Fair Winds and Following Seas!